Ecurie Qardabiyah launched a limited edition of 25 pieces of artful pens designed by Dr. Waleed and point plume in Paris, manufactured by famous Montegrappa in Italy, it was dedicated to people who enriched the Arabian horse world.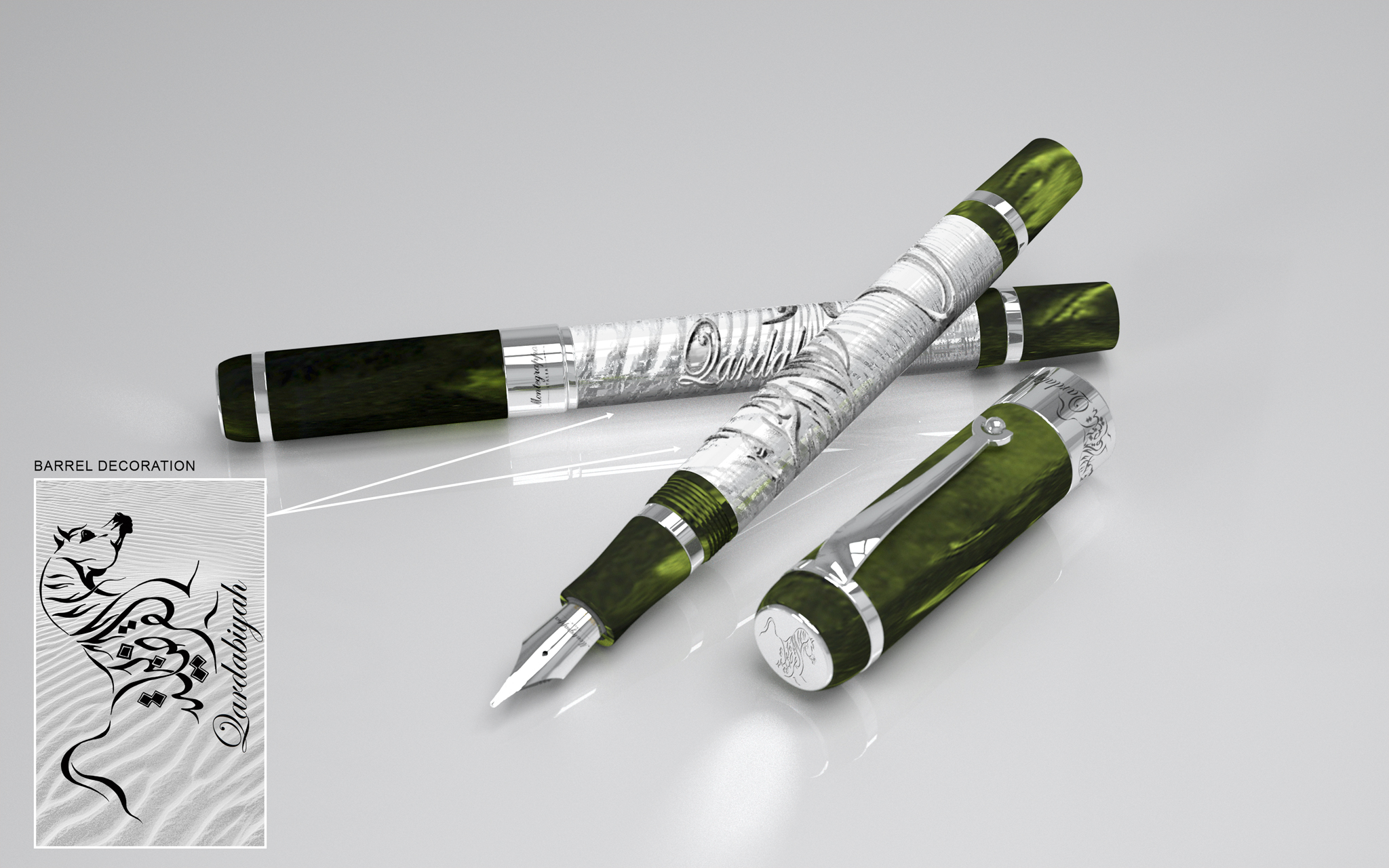 Mr. JP Deroubaix founder of FBA and french trainer JF Bernard visits Ecurie Qardabiyah.
French trainer Mme S. Tarou visits Ecurie Qardabiyah.
American Halter trainer David Boggs of Midwest Arabians visit Ecurie Qardabiyah. 
A lovely colt by Maggdalene and WH Justice by the name Eclair is proudly owned by Rayan Lahmar.
SHEYMAH by Dahess x Matmata is in training with Mrs. Pia Hoiom, leading Swedish trainer, after she finished successfully her pre training at ecole blondeau in Saumur france.
In Berlin Arabian horse conference, it was nice gathering and conversations with  Ateeq Mohamed Mazroui, Todd Moak, Nasser Alhabtoor, Abdullah Al Mansoori, Shk. Hamad Bin Butti, Khalid Al Nabooda, Ahmed Al Mazrooei, Jean Pierre De Gasté, Yves Plantin, BOISSEUIL Martial, BUNTING Val, Lara Sawaya and few other breeders and vets, trainers present in this occasion.
Five mares were selected and purchased by wrsan stables in UAE owned proudly by HH. Shk Sultan Bin Zayed, carefully selected by DeirdreHyde.
Chamiat Al Badr 2009 (Jamak x Faten Hamama), Somood Al Qardabiyah 2012 (Dormane x Turkia), were sold to Mr. Abdullah Al Mansoori from Abu Dhabi, we wish him the best of luck with these great choices.
A new shipment from bronze sculptor Judy Nordquist arrived, lovely limited edition pieces.
Mr. Mohammed Al Mulla from UAE embassy in Paris purchase Sehl, a full brother to Zahir winner of prix de president in Tunis.
Irish trainer Eoghan O'Neill visits Ecurie Qardabiyah.
Ecurie Qardabiyah was present in Toulouse Arabian horse festival, after their presence last year in Berlin, was a nice conference with a lot of Arabian breeders from around the world, it was a fruitful gathering and thanks to Shk. Mansoor racing festival, which sponsor this and other major Arabian racing events around the globe, after Toulouse conference Mr. Khalid Al Nabooda leading breeder in UAE and a unique group 6 UAE breeders visited Ecurie Qardabiyah, it was a lovely afternoon.
Mr. Kamal Al Bahou breeder in France and originally Jordanian visited us, and we returned a visit to his farm, I fell in love with a filly by Al Bahr from his breeding, which was purchased as an addition to Ecurie Qardabiyah.
Al Yamama sold to Wrsan gave birth to a filly by Nashwan and Turkia gave a filly by Akbar.
Diraya filly by the mare Mehba sold by Ecurie Qardabiyah made four runs with four easy wins in qasar said race track in Tunisia.

Sultan al Qardabiyah, foal by our show mare Taleed al Qardabiyah Canadian national champion and Scottsdale champion out of Da valentine.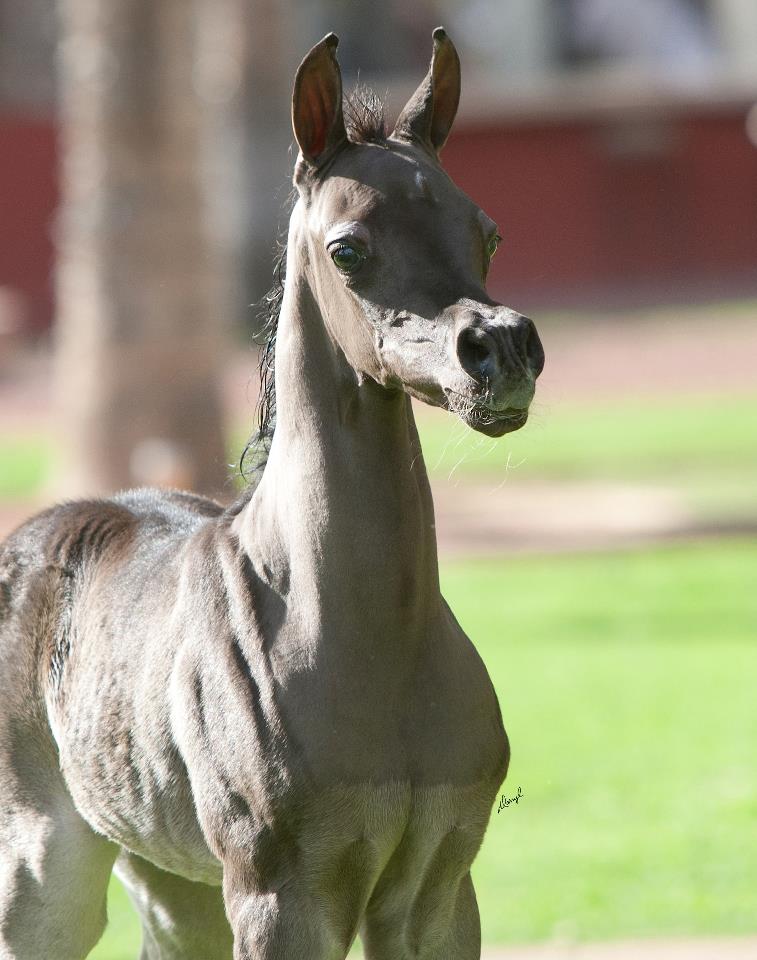 Emma Maxwell visited Ecurie Qardabiyah during the week end and took some beautiful shots.
New addition to Ecurie Qardabiyah, a filly bought from Eric Dellova, by Akbar out of Akerma, Ichara blood line, great edition to our breeding program
Some nice painting added to our collection by my dear friend and great artist Ali Almimar
Mr.M.Al Barag from Athba Stud owned by HH prince Abdulaziz Bin Ahmed Bin Abdulaziz visits Ecurie Qardabiyah.
Trainer karin Van Den Bos from NL is in a visit to Ecurie Qardabiyah.
Trainer Kim Augenbroe from NL in a visit to Ecurie Qardabiyah today.
Talented trainer Damien De Watrigant visit Ecurie Qardabiyah.
Mr.Faisal Al Rahman founder of emirates blood stock visits Ecurie Qardabiyah
Zeitounet Al Badia gave us a beautiful big strong well confirmed filly by Munjiz in 2013
Ghaouich was bred to Nashwan Al Khaldiah for 2013 season
Jedeliane was bred to Jalnar Al Khaldiah for 2013 season
Hijara bred to Munjiz for 2013 season
Lahja gave us a nice colt by calin du loup in 2013
Our two stallions leaves back to Tunisia for breeding season to offer the last blood line of Hosni and Dynamite III to the Tunisian breeders, a blood line not available in Tunisia only through these stallions
After two days of his covering season cheick el Arab sadly passes away, luckily we still maintain his frozen season which will be offered to selected mares
More race in 2013 in LA, for 2014 new 3 races announced in Colorado, more Arabian races sponsored by Shk. Mansoor festival, and wathba stud.
First Arabian race in California, ridden by ladies jockeys, around 30'000 Spectators
Meeting with FNARC chairman in Tunisia to discuss cooperation to preserve the paper archive as a contribution from Ecurie Qardabiyah and to sponsor a study about Tunisian horse origins.
Taleed wins National Canadian champion title and at Scottsdale, and now with Italian trainer Giacomo Capacci.
On the day of Arc de Triomphe Paris 2013, interesting conversations with breeders, HH Aga Khan, polish breeder Longin Blachut, Dianne Waldron of Rosebrook Arabians in US, Mr. Mats Genberg & Nils Rosenkjaer from Sweden, Mr. Yuves Plantain .
A nice visit to see Mr Yves plantain breeding and had the chance to meet Njewman
Received the new book from Dr.Nagel; sure it will be interesting to read and learn from
Thanks to Dr. Mohammed Al Nujaifi for sending his gift, a valuable book written by him about Iraqi horses, Dr. Al Nujaifi is promoting the Iraqi horses on the international scene and he is succeeding.
Joshua Tree owned by my friends Mr. Khalid Al Nabooda and Mr. Kamal Al Bahou successfully defended his title in the $1 million Pattison Canadian International to become the first three-time winner in the history of the prestigious turf race.
Mr.Zaid Al Nujaifi visited Ecurie Qardabiyah, and had a look on what is performed.
Long drive from Geneva, but still it was a wonderful weekend with my friend Mr.Taoufik Lahmar and his adorable family with their new horse eclair, Rayan even though not yet 5 years old but he helped in cleaning stables and managing horses, it was really fun.
Choumouk (Aliya) by Dormane in pre-traning with trainer Pia Hoiom.
Bachair by Dormane in pre-traning with Mr.D.Watrigant.
Shk.Hamed AL Hamed and Shk.Khalifa Al Hamed visited Ecurie Qardabiyah and had a look at its facilities and breeding program.
Mabroukah and Ghaouaich in foal to Nashwan Al Khalidiah left to Tunisia, probably to enjoy more sunshine!
Ecurie Qardabiyah present in the Arabian racing world conference London 2014, Sponsored by HH Shk.Mansoor Bin Zayed
Fruitful discussion with breeders from all of the world , especially from my friends and breeders from UAE
My breeder friend from Poland Mr.Longin Blachut thank you for your valuable gift, sure i will enjoy it.